Royalty Free Dance Background Music Downloads
Dance music can simply be described as anything that makes you want to dance! The music is typically upbeat with a strong up and down beat, and makes use of strong bass. Dance music is very often used for parties, events and other social gatherings.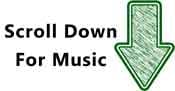 Royalty free dance music downloads listed below. Use this background music for videos, youtube, etc...
Instrumental Name
Date Published
MP3 Download
Super Spiffy
> Track Versions
Commercial music with a modern pop groove.
Happy, Upbeat, Commercial And Advertising, Dance
Upbeat Funny Dance

(By David Renda)
> Track Versions

Funny upbeat music which is sure to make you smile and dance.
Funny, Dance
Need a music composer? Hire Fesliyan Studios to compose.