Royalty Free Tango Background Music Downloads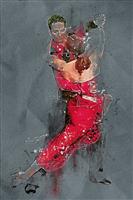 Tango music is a style of music that originated in the 18th and 19th century in Argentina and Uruguay. Tango music is music that accompanies the tango dance with its recognizable tempo and feel. It us made up mostly of guitars, violins, flutes, and piano.
Tango music downloads listed below. Use this background music for videos, youtube, etc... (Full policy)
Instrumental Name
Date Published
MP3 Download
An Old-Fashioned Hat
- By Alex Melodic

A lyrical tango with a slightly ironic mood, stylized for the good old days.
Tango
03:03
2022-05-02
Best Memories
- By Alex Melodic

Instrumental composition in the rhythm of the tango.
Tango
02:43
2022-05-02
Under A Dim Light
- By Alex Melodic

A sad and romantic composition in the style of tango in a medium tempo and with a simple melody played on accordion and guitar.
Romantic, Sad, Tango
03:25
2022-05-02
Don't Hide Your Passion
- By Alex Melodic

Stylish and expressive tango with vintage elements in arrangement, solo by piano and violin.
Tango
02:38
2022-04-05
This Pain Will Pass
- By Alex Melodic

Slow tango with some dissonances in melody, solo by accordion, piano and violin.
Sad, Tango
02:53
2022-03-10
Proud And Gentle
- By Alex Melodic

Instrumental piece in style of tango with steel guitar solo and bandoneon and tres at the background.
Romantic, Tango
02:41
2022-02-22
Try Not To Recall
- By Alex Melodic

Slightly dramatic tango with acoustic guitar solo.
Tango
02:39
2022-02-22
Let's Tango
- By Steve Oxen

A rhythmic and bright song that calls to tango.
Salsa, Tango
02:24
2020-05-27
Can't find it? Contact us to get it made!