Royalty Free Movie Trailer Background Music Downloads
Movie trailer music is meant to maximize interest and create hype. Film trailer music is usually up to 2 minutes long and is very cinematic, big sounding, with a hint of epic mystery. This genre of music typically starts soft, picks itself up a bit, and ends with a big climax.
Royalty free movie trailer music downloads listed below. Use this background music for videos, youtube, etc...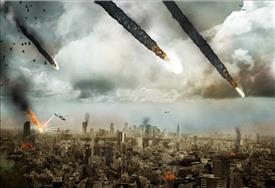 Instrumental Name
Date Published
MP3 Download
They Said I Can't
> Track Info

Great inspiring and motivating TV commercial music.
Commercial And Advertising, Motivating And Inspiring, Movie Trailer
Trouble Is Brewing
> Track Info

This dramatic trailer music is all about dark trouble brewing.
Epic, Dark, Suspenseful, Movie Trailer
It Is Coming
> Track Info

This horror music is about something ominous coming to get you.
Scary, Suspenseful, Dark, Movie Trailer
Venomous
> Track Info

Venom Soundtrack unofficial inspired version. The music features dark hybrid sounds, with a hybrid orchestral mix. The form starts out soft and mysterious, then introduces a rhythm, and finally ends with a huge climax section.
Epic, Dark, Suspenseful, Movie Trailer
Titan Revenge
> Track Info
This track is about the biggest and baddest monster out there. Instruments include supenseful horror drones, big brass, big drums and other elements.
Epic, Dark, Suspenseful, Movie Trailer
Destruction
> Track Info

This epic trailer music track is about destruction - hence the title. Included are a lot of hybrid elements and sound design, with epic hard hitting drums.
Epic, Action, Dark, Movie Trailer
You may also check out this youtube video playlist: