Royalty Free Music - Background Music For Video
Download the following royalty free instrumental background music tracks. These background music instrumentals are MP3 free downloads of the highest quality. Included is music for podcasts, youtube videos, video editing, commercial use and more.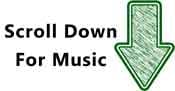 Royalty free music is a term which describes music that's free after initial purchase for commercial use. However, the instrumental background music here is 100% free of charge for non-commercial use, or donation based if you want the background music for commercial use. If you're using the background music for YouTube videos, read my policy for further details.
Featured Instrumental Downloads