Royalty Free Brass Background Music Downloads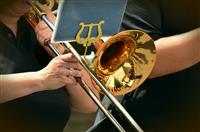 Brass music is music that has heavy features of brass instrumentation. Brass music is made up of a variety of instruments. Those instruments include trumpet, trombone, French horn, and tuba.
Brass music downloads listed below. Use this background music for videos, youtube, etc... (Full policy)
Instrumental Name
Date Published
MP3 Download
Soccer Samba
- By Steve Oxen

Intense, fun EDM driven samba beat.
Brazilian, EDM Dance
02:52
2021-06-03
Jolly Carol
- By Steve Oxen

Upbeat, festive, classic Christmas carol, featuring choir and brass.
Christmas
02:11
2020-10-27
Sensual Bolero
- By Steve Oxen

Sexy Latin trumpet with a lilting groove.
Salsa
02:48
2020-06-01
Island Mambo
- By Steve Oxen

Upbeat Latin dance with trumpet and saxophone solos.
Salsa
02:26
2020-06-01
Hot Salsa
- By Steve Oxen

Upbeat salsa dance music to get you in a groove.
Salsa
02:03
2020-05-08

This instrumental is orchestral based, and provides an intense action and battle feeling.
Suspenseful, Action
02:38
2019-01-09

"In Honor" is music to honor and respect for the military and our veterans.
Cinematic Film, Patriotic, Dialogue Voice Over
03:21
2018-07-16
03:17
2013-08-14
Can't find it? Contact us to get it made!