Royalty Free Acoustic Guitar Background Music Downloads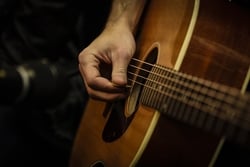 Acoustic guitar music is music that simply features a solo acoustic guitarist. Acoustic guitar music is known for its western sound and is often associated with country music. The music is often used in documentaries which are said to make one think.
Acoustic guitar music downloads listed below. Use this background music for videos, youtube, etc... (Full policy)
Instrumental Name
Date Published
MP3 Download
Outlaw Beginnings

(By Roger Ts)

Traditional slide guitar track with western roots.
Western
02:17
2021-08-26
Heat Of Spain

(By Steve Oxen)

Traditional Spanish flamenco guitar.
Spanish
02:12
2021-08-06
Spanish Classical Guitar

(By Steve Oxen)

Soft, emotional, classical Spanish guitar.
Spanish
05:06
2021-08-06
Flamenco Standoff

(By Steve Oxen)

Traditional Spanish flamenco guitar.
Spanish
02:38
2021-08-06
Anime Trap

(By David Renda)

Sad anime type trap beat.
Trap
02:48
2021-05-19
Riviera Walk

(By Steve Oxen)

Peaceful, relaxing, acoustic piece with Italian elements.
Italian
02:27
2021-05-10
Rolling Hills

(By Cristiano Corradetti)

Upbeat country jam played with a variety of guitars.
Western
04:04
2020-06-26
Riding Solo

Acoustic guitar music with hand picked strings and a western feel.
02:35
2019-06-20
Beautiful Memories

This instrumental is background music for video montages, with a warm and innocent feeling of beautiful memories.
Happy, Commercial And Advertising, Peaceful And Relaxing, Wedding Video
03:08
2018-09-18
Categories related to Acoustic Guitar:
Can't find it? Contact us to get it made!