Royalty Free Western Background Music Downloads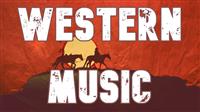 Western music is music that is a closely related to country music, in style, but has less instrumentation. Western music is mostly led by guitar and banjo, but will also include instruments like the fiddle and the harmonica. This music was inspired by settlers of the west with its mountain terrains and big country ranches.
Western music downloads listed below. Use this background music for videos, youtube, etc... (Full policy)
Instrumental Name
Date Published
MP3 Download

Epic western theme royalty free music mainly featuring guitars and western percussion.
Western
02:22
2020-03-15

Epic western theme royalty free music featuring guitars and orchestra.
Epic, Western
02:24
2020-03-15

Cowboy western royalty free music with a horse riding feel.
Western
02:17
2019-04-15
Country Fireside
- By Roger Ts

Western slide guitar style track with a minor and soberminded feel.
Peaceful And Relaxing, Western
02:34
2021-10-11
Outlaw Beginnings
- By Roger Ts

Traditional slide guitar track with western roots.
Western
02:17
2021-08-26
Old West Gunslingers
- By Steve Oxen

A trailer track in the style of the iconic Spaghetti Western duel themes of old.
Movie Trailer, Western
02:51
2020-08-14
Rolling Hills
- By Cristiano Corradetti

Upbeat country jam played with a variety of guitars.
Western
04:04
2020-06-26
02:49
2017-03-24
Categories related to Western:
Can't find it? Contact us to get it made!