Royalty Free Country Background Music Downloads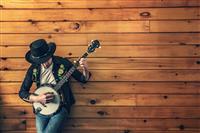 Country music is a genre that mixes folk music with instruments like guitars, banjos, and harmonicas. Country music is connected to Western and Honkey-Tonk music and features some famous artists like Johnny Cash and Dolly Parton This music style originated in Southern United States but has since influenced many other genres around the world.
Country music downloads listed below. Use this background music for videos, youtube, etc... (Full policy)
Instrumental Name
Date Published
MP3 Download
Ol' Gravel Trail
- By Steve Oxen

Gritty acoustic blues track, featuring steel acoustic guitar, dobro, and harmonica.
Blues, Country
02:05
2023-07-27
Whiskey Woes
- By Steve Oxen

Sad, mournful, acoustic blues track.
Sad, Blues, Country, Folk
02:40
2023-07-21
Rough n' Ready
- By Steve Oxen

Gritty, edgy, country rock track.
Country, Rock, Western
02:34
2023-05-15
Prairie Evening
- By Steve Oxen

Relaxed, laid-back, positive country track.
Happy, Peaceful And Relaxing, Country
02:48
2023-05-15
Chicken Chase
- By Steve Oxen

Fast-paced banjo chase music.
Funny, Children, Kids, Country
02:00
2023-05-15
Hoedown Hustle
- By Steve Oxen

Fun, upbeat, bluegrass track.
Upbeat, Country
02:18
2023-05-15
Wistful Heart
- By Steve Oxen

Country pop ballad.
Romantic, Country, Pop, Rock
02:42
2023-05-15
Can't find it? Contact us to get it made!