Royalty Free Blues Background Music Downloads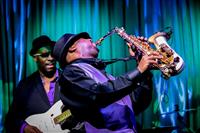 Blues music is a type of folk music that is named after the melancholic mood of feeling "blue." Blues music is made up of distinct walking bass lines, syncopation, and particular chord progressions. It was heavily influenced by jazz but has its own spin on rhythm and lyric style.
Blues music downloads listed below. Use this background music for videos, youtube, etc... (Full policy)
Instrumental Name
Date Published
MP3 Download
Electric Blues Riot
- By Steve Oxen
Fun, upbeat, blues rock track with piano and guitar solos.
Blues, Rock
02:41
2023-07-31
Lounge Noir
- By Steve Oxen

Elegant, jazzy, lounge piano blues.
Blues, Jazz
02:56
2023-07-27
Ol' Gravel Trail
- By Steve Oxen

Gritty acoustic blues track, featuring steel acoustic guitar, dobro, and harmonica.
Blues, Country
02:05
2023-07-27
Whiskey Bar Blues
- By Steve Oxen

Gritty, distorted, slow, guitar-driven blues track.
Angry, Blues, Rock
02:38
2023-07-26
Whiskey Woes
- By Steve Oxen

Sad, mournful, acoustic blues track.
Sad, Blues, Country, Folk
02:40
2023-07-21
Can't find it? Contact us to get it made!