Royalty Free Angry Background Music Downloads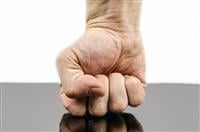 Angry music is made with lost of drums, electric guitars, and dark tones. Angry music is something that you play when you are in a fit of rage and are expressing yourself. This music is a way of interpreting an angry mood that one might have.
Angry music downloads listed below. Use this background music for videos, youtube, etc... (Full policy)
Instrumental Name
Date Published
MP3 Download
Final Boss

Epic boss fight royalty free music reminiscent of metroidvania games.
Angry, Action, Pop, Rock
03:26
2020-11-22
Brutality

Dark and aggresive guitar and snyth trailer royalty free music.
Angry, Epic, Movie Trailer
02:04
2020-09-15
Rage Quit

Intense angry rock royalty free music with aggressive tension, for raging moments.
Angry, Dark, Rock
03:04
2020-08-29
Can't find it? Contact us to get it made!