Royalty Free Halloween Background Music Downloads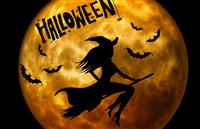 Halloween music is spooky music that fits the holiday scene. Halloween music is reminiscent of ghost, goblin, witch and other sounds to create eerie atmostphere. Whether at a haunted house or Halloween party, the music is great for a holiday chills vibe.
Halloween music downloads listed below. Use this background music for videos, youtube, etc... (Full policy)
Instrumental Name
Date Published
MP3 Download
Fantasy Ambience

Fantasy Ambience loop which can be used for video game menus and more.
Scary Horror, Suspenseful, Dark Ambient, Fantasy, Halloween
01:25
2021-02-23
Haunted Carnival

(By Steve Oxen)

Spooky halloween-themed orchestral waltz with a fairground/circus atmosphere.
Halloween
02:01
2020-10-27
Groovy Ghouls

(By Steve Oxen)

Funky 60s-style halloween track with spooky theremin.
Children, Kids, Halloween
02:19
2020-10-26
Ghost Stories

(By Steve Oxen)

Ominous halloween track with piano and spooky ambience.
Dark, Mysterious, Suspenseful, Dark Ambient, Halloween, Dialogue Voice Over
02:51
2020-10-26
Dancing Skeletons

(By Steve Oxen)

Quirky, fun, mischievous halloween-themed track with xylophone, theremin, tuba, and pizzicato strings.
Children, Kids, Halloween
02:04
2020-10-26
Phantom In The Organ

(By Steve Oxen)

The perfect soundtrack for a spooky haunted mansion.
Halloween
02:18
2020-10-23
Categories related to Halloween:
Can't find it? Contact us to get it made!