Royalty Free Classical Music Downloads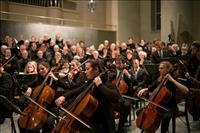 Classical music is foundational music to western tradition and culture. Classical music is taught as the basis for many modern musical genres. Piano, guitar and strings are often featured, and the music is often licensed as background hold music.
Classical music downloads listed below. Use this background music for videos, youtube, etc... (Full policy)
Instrumental Name
Date Published
MP3 Download
Creation
- By David Fesliyan

This track includes only orchestral strings - First violins, violas, cellos & basses.
Classical
02:18
2018-06-27
Mastermind
- By Steve Oxen

Energetic classical royalty free music played by strings.
Classical, Commercial And Advertising
02:00
2020-05-05
Emotional Regret
- By Steve Oxen

Features an emotional solo violin, with ambient strings underneath.
Sad, Classical
03:36
2022-07-13
Italian Opera
- By Steve Oxen

Classical operatic piece in the style of Verdi, featuring a tenor, soprano, and full orchestra.
Classical, Italian
02:05
2021-05-11
Classic Love Scene
- By Steve Oxen

Love at first sight, with classic Hollywood strings.
Romantic, Classical
03:10
2020-10-27
Grief And Emptiness
- By Steve Oxen

Sad classical piano in a minor key.
Classical, Jazz
04:30
2020-08-17
Gentle Ballerina
- By Steve Oxen

Soft classical music with a calm and pleasant ballet feeling.
Classical
03:18
2020-08-10
Sonata Rondo
- By Steve Oxen

A piano sonata rondo in the style of Mozart.
Happy, Classical
02:54
2020-07-30
Baroque Minuet
- By Steve Oxen
Quiet, moderate classical dance for harpsichord and flute.
Classical
03:26
2020-07-30
Strings Galore
- By Steve Oxen

A violin concerto in the style of Vivaldi.
Happy, Classical
03:00
2020-07-30
The Magic Of Christmas
- By Steve Oxen

Lush, magical orchestral track with choir and Christmas elements.
Christmas, Classical
02:38
2020-12-17
Can't find it? Contact us to get it made!