Royalty Free Violin Background Music Downloads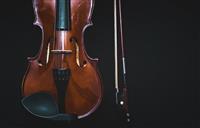 Violin Music is music that features violins but can also be accompanied with other string instruments. Violin Music is sometimes soft and somber, but can also be used in epic and suspenseful moments. The violin can be featured in classical music, jazz music, folk music, and many more.
Violin music downloads listed below. Use this background music for videos, youtube, etc... (Full policy)
Instrumental Name
Date Published
MP3 Download
Classic Love Scene
- By Steve Oxen

Love at first sight, with classic Hollywood strings.
Romantic, Classical
03:10
2020-10-27
Gentle Ballerina
- By Steve Oxen

Soft classical royalty free music with a calm and pleasant ballet feeling.
Classical
03:18
2020-08-10
Strings Galore
- By Steve Oxen

A violin concerto in the style of Vivaldi.
Happy, Classical
03:00
2020-07-30
Mastermind
- By Steve Oxen

Energetic classical music played by strings.
Classical, Commercial And Advertising
02:00
2020-05-05
We Were Friends
- By David Fesliyan

Slow sad background music with piano, ethnic winds and orchestra.
Peaceful And Relaxing, Sad
04:18
2020-04-28
Ready to Fight
- By David Fesliyan

2 minutes of action music with various break points and intensities.
Suspenseful, Action, Cinematic Film
02:11
2019-01-22
Cold Isolation
- By David Fesliyan

Slow, sad, soft and dramatic instrumental, which mainly features strings and piano.
Sad, Cinematic Film, Dialogue Voice Over
03:30
2018-12-29
Creation
- By David Fesliyan

This track includes only orchestral strings - First violins, violas, cellos & basses.
Classical
02:18
2018-06-27
O Come O Come Emmanuel
- By David Fesliyan
Sad, Christmas
02:58
2016-12-25
Bourne Identity Flashback Music Cover
- By David Fesliyan
Dark, Sad, Cover Music, Short
01:08
2015-11-17
Dramatic Scene Ending 1
- By David Fesliyan
Epic, Short
00:32
2012-11-04
Can't find it? Contact us to get it made!